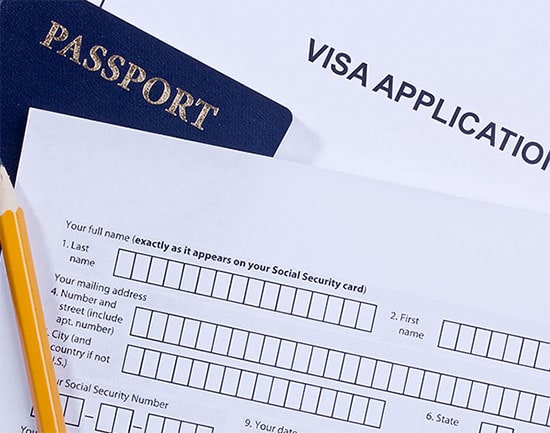 You might be wondering whether you can return to the US after overstaying your visa. Overstaying your visa is a severe offense that carries penalties that might bar you from re-entering the U.S. Fortunately, that does not also mean you can't re-enter. It depends primarily on the case circumstances. Continue reading to learn the consequences of an overstayed visa, if the visa overstay can be forgiven, the waiver, and the importance of engaging a competent immigration lawyer.
What is a Visa Overstay?
An overstay is when you enter the US legally, either with a visa waiver or based on a visa but fail to depart on time. Typically, the essential time you should leave is found on an immigration document known as I-94 that the border officials create upon your entry. It is also available in the online database. Therefore, to calculate the duration of the overstay, you should count from the date in the I-94.
Do not confuse your I-94 expiring date with what is on your visa. Your visa expiration date indicates the duration you could use the visa to enter America (rather than the period you could stay here after your entry).
Overstaying on Your Student Visa
The authorized stay as a U.S non-immigrant is on I-94, which is prepared by the immigration official who met you upon your entry. You could also obtain it from the Custom and Border Protection official website.
Many non-immigrant I-94 cards show when the period ends and when the non-immigrant should leave the USA. However, if you're a J-1 or F-1 student, you won't be given any specific date. The law recognizes that most academic programs do not have a fixed duration, and a student can engage in optional practical training after completing their educational program. So, rather than a date on an I-94 card, you'll receive a duration of status.
The D/S annotation can make it hard for you to determine whether you have overstayed. Generally, the overstay starts when you're in the U.S and your training or studies period is over, or the grace period has elapsed, or you have not applied for a change of status.
Moreover, the overstay can start when the person stops adhering to their visa terms and conditions.
Automatic Visa Revocation Following an Overstay
Even when you overstay by a day or week, assuming you did not bring a change of status before your departure date, your visa can be canceled and voided automatically. Moreover, you cannot apply for another visa at a consulate outside your county of nationality.
There is no forgiveness of a waiver for this. However, if a person filed an extension or change of status prior to their departure date and it is finally granted, the overstay will not count against them. If the request is denied, the overstay will be used against them.
Consequences of Overstaying Six Months as Far as Future Inadmissibility is Concerned
If the overstay did not exceed one hundred and eighty days, then a person is not lawfully inadmissible. That means they can obtain a new visa or green card.
However, if you're applying for your non-immigrant (temporary) visa and you should persuade the consular official that you'll leave the USA once the allowed stay elapses. It can be challenging to prove this after the U.S consular officer knows about your previous overstay.
Consequences of Overstaying More than Six (6) Months
You might face severe penalties and consequences for overstaying your visa by at least one hundred and eighty days, as discussed below. During the overstay, you are simultaneously accruing the unlawful presence. The legal phrase "unlawful presence" means the time you spend in the United States following an overstayed visa or an illegal entry without the right to be in the county.
If your unlawful presence exceeded six consecutive months but not more than a year and leave before deportation proceedings are filed against you, you cannot return here for three (3) years.
If your unlawful presence was more than three hundred and sixty-five successive days, and then leave before deportation or any proceedings being filed against you, you'll be inadmissible. You cannot return to the USA for ten (10) years.
If your unlawful presence exceeded a year (not a must continuously) or deported and later tried to enter with no inspection, you cannot return to America for good. However, you could request to apply again for entry following ten (10) years.
Please note, the above consequences apply when you leave the U.S and try to return. Occasionally, a person eligible for a green card could avoid the penalties by adjusting their status. It is achieved by submitting paperwork to the United States Citizenship and Immigration Services and attending an interview in the U.S.
Nonetheless, only a few persons can adjust their status (individuals who entered here without visas unless they are grandfathered in according to Section Code 245 (i) law).
Adjustment of status is open to a person who entered here lawfully even when they overstayed their visa and is applying for a green card as an immediate relative (unmarried person below twenty years, spouse, or parent) of a citizen.
If you do not qualify to adjust your status but qualify for a green card, you should apply it via an overseas United States consulate. That is if the time bar can be applied.
Let's assume you entered the United States unlawfully, wish to apply for a green card, and have a sibling who is a citizen. The odds are the USCIS will approve your I-130 petition. After many years have passed until your priority date becomes current, the government will continue processing your case and finally call you for an interview at an abroad United States consulate. During the interview, the officer will ask you where you have been living. Unless you prove not having stayed illegally in the states, the green card can be denied because of the 3-or-10-year bar. However, you can prevent this by applying for a waiver of unlawful presence.
Are There Exemptions on an Overstayed Visa?
You will not accumulate unlawful presence as far as the 3-and 10-year time bars are concerned when and if you:
Were below eighteen years of age
Had a valid asylum application pending in the United States Citizenship and Immigration Services
Were a Family Unity Program beneficiary
Was a domestic violence victim who entered the USA on a non-immigrant visa and could prove a relationship between your abuse and overstay
Had an awaiting application for change of status, adjustment of a statement, or extension of status
Has received protection through Withholding of Removal under the Convention Against Torture, Deferred Action, Deferred Enforced Departure, or Temporary Protected Status
Was a victim of trafficking who could prove that the trafficking was the reasons for the unlawful presence
Waiver of 3-and 10-Year Time Bars
The waiver is accessible to a person who could prove that if he/she isn't granted the immigrant benefit, their parent or spouse living in the USA will undergo extreme hardship.
Nevertheless, it is challenging to establish. It involves proving the hardship that your family member(s) could undergo upon separation because of the visa denial. You should prove severe emotional, medical, or financial effects to your loved ones living in the USA.
You can also avoid facing the bar by staying with an I-601A provisional (stateside) waiver of inadmissibility.
Be sure to work with a skilled immigration attorney when applying for either of the waivers. Your attorney will:
analyze where the local consulate will be empathic to your request, and
collect affidavits and documents that prove your family's extreme hardship claims.
Staying with an I-601A Provisional Waiver of Inadmissibility
The stateside or provisional waiver permits individuals who are immigrating as a relative of a diversity visa lottery winner or U.S citizen to apply for the waiver of a 3- and 10-year bar for unlawful presence prior to departing the United States rather than attending the consular interview later.
The provisional waiver became effective in 2013. Before then, applicants attended the interview hoping the waiver would be granted, risking staying outside America if their request was denied.
What Grounds Does Inadmissibility the I-601A Waiver Address?
The stateside waiver is designed to handle the only basis of inadmissibility in the immigration laws. According to the ground, while an applicant above eighteen accumulated unlawful presence for more than six months is prevented from entering the United States for three (3) years. Also, a person who accumulated unlawful presence for at least 365 days before leaving America cannot return to the USA until ten years have passed.
However, a green card applicant can be qualify due to the following reasons:
Possibility of becoming a public charge (requiring government help)
Health challenges
Immigration violations, committing a crime, or fraud
The stateside waiver doesn't handle these inadmissibility grounds. As a result, you should seek the traditional waiver under Form I-601 and attend the consular interview prior to receiving an answer or applying.
The Stateside Waiver Application
After the USCIS approves the self-petition or family-based petition, the National Visa Center will notify you about the necessary processing fees and next steps. You should advise the NVS of the plan to present your request to the United States Citizenship and Immigration Services.
The next step involves submitting your stateside waiver application to the United States Citizenship and Immigration Services on Form I-601A alongside fees and accompanying documents. Typically, the charges are six hundred and thirty dollars plus eighty-five dollars for fingerprint services if you are below 79 years.
The USCIS should advise the NVC after approving your application. Your case proceeds and you could leave the county for your consular interview confident that there is a possibility of getting your green card approved.
Should the USCIS deny your stateside waiver application, you can reevaluate your situation while living with your loved ones in the U.S. While there isn't an appeal available, you can retry before your consular case is closed.
You qualify for the waiver if you meet all the following requirements:
You qualify for a visa to the USA
You are present in the U.S when submitting Form I-601A
You are above seventeen years of age
You can establish that if ungranted the green card and waiver, your state's relatives will undergo extreme hardship
You're admissible to the U.S
Your waiver application should include:
Form 1-601A
The necessary fees
Copies of all documents demonstrating the qualification requirements highlighted above
Your immigration lawyer should help you prepare the application
Applying for Change of Status or Extension of Your United States Visa
If you are on a temporary (non-immigrant) visa and require to extend your time on the visa, you should complete and send Form I-539 to the USCIS.
However, the change of status or extension is not granted automatically. You should:
Confirm Your Qualification for the Change and Extension of Status
Most visas permit one extension hinging on when you require it and the ability to establish the continuous non-immigrant intent (you intend to leave the United States on the departure date and not try to stay here permanently). As long as you've maintained visa status, there is a likelihood you can apply for another status.
Prepare Form I-539 Application
Typically, applicants use Form I-539 for various requests. Therefore, you should read questions and instructions carefully to understand the requirement that applies to you. The following questions require attention.
Your Details
As far as questions about the expiration date and the current non-immigrant status are concerned, you should get these details on your I-94.
Application type
Although it is self-explanatory, you should mention your loved one if they obtained visas to go together with you to the U.S. The family members could also get extensions by filing Form I-539. However, they should all pay a separate photo and fingerprints fee and attach a separate Form I-539A.
Processing Information
Conduct your research and ensure you aren't requesting more time than you will be permitted on your new visa or visa extension. The request should be realistic. You should prove your needs with documentation.
Additional Information About You
If a passport expires while a non-immigrant is in the USA after the extension of the status request has been approved, they should renew it. Your passport should be valid for more than six months before the departure date.
Make sure you answer "No" to questions 4, 5, and 6. Should you answer "Yes" to one of the questions, you won't get the visa or are inadmissible. However, there is an exemption if you are seeking a visa that permits dual intent like O-1, L, H-1B visa. Talk to your immigration attorney about other situations where the answer is "Yes," especially having worked here and criminal record questions. You should also consult a legal expert if you're on a J-1 visa; the entitlement to change the status is limited and complicated.
Public Charge
It's a new section that could cause a denial if you are considered a public charge. You should indicate whether your loved ones in the United States or you have been approved or received the benefits. You should present documentation proving your statements.
Prepare Supporting Documents and Fees
Typically, you should provide:
A copy of the I-94
English translation of all documents in a different language
The necessary fees (three hundred and seventy dollar and eighty-five dollars for biometrics)
For dependents (your children or spouse), marriage or birth certificates establish your relationship
Documents proving the need for your extension of status
Send the application to the address in the instruction. If you've questions or concerns about the process, consult with your immigration lawyer.
Understanding Why Your Immigration Application or Petition Is Taking Long
If you're awaiting the government's action on your immigration application, the odds are you will wait longer than expected. It is nothing personal. While your attorney can help in tracking the application's status and enquire, the lawyer does not have control over the immigration agencies.
Below are possible reasons why your immigration application is taking time before resolving:
The Immigration Office is Backing Up
Immigration agencies always have more workload and applications than they could work on in a given period.
Typically, the USCIS analyzes applications in a queue.
To understand the processing time at various USCIS offices and centers, visit the check processing times at the official United States Citizenship and Immigration Services site. If you've got the application receipt number for the application or petition, you could confirm the status on the official USCIS website.
The File is Lost in the USCIS System
It is not paranoiac to think the file got lost in the government building. It happens. Therefore, it is recommended to make a copy of the application before submitting it. Do not submit the original document if your copy will meet the United States Citizenship and Immigration Services' needs and requirements.
It is essential to track the application's progress through the USCIS system. However, if the file gets lost before a case number is allocated to it or gets a receipt notice after months, it can be challenging to monitor. In this case, you should contact the relevant immigration agency, explain your situation, and then send a copy of your previous application.
The Security Check is Taking Time Before Processing
If your application requires you to have biometrics or fingerprints taken will involve the fingerprints being sent to the Federal Bureau of Investigation for checks of your immigration record and criminal record. It could add weeks or even months to the application process, especially if you have an extensive record or a common name.
The Immigration Mail Was Sent to an Incorrect Address
If you have moved after filing your application with the United States Citizenship and Immigration Services, you should advise the relevant government office or agency. You should use the USCIS online change of address service or Form AR-11.
However, sending an overall change of address does not always mean the agency will advise the office working on the files. More often than, you should submit a change of address notification to all USCIS offices handling the application.
If you believe that the new address could have resulted in confusion, call the office immediately, and you expect to hear from the agency. It would also help if you sent a copy of your application.
You Have Not Responded to the Request for Evidence
When the USCIS can't approve your application founded on the material you sent, the immigration authority might send you an RFE. Collecting the proof requested and submitting it in time is essential.
Should you ignore the RFE, submit the evidence late, or uncertain whether the evidence was adequate, it could cause a delay. Your experienced lawyer should help.
Frequently Asked Questions
Any experienced immigration lawyer will tell you that they have answered the following questions more than a couple of times:
Are There Other Consequences of Overstaying Your Visa?
Other penalties for overstaying a visa include:
Visa Voidance — A visa of a foreign nation that overstays the stay period is voided. U.S immigration is stringent in this provision, and you might not be readmitted unless you obtain another non-immigrant visa in your home country.
No consulate shopping — If you overstay your visa, you should return to your home country to acquire another visa. That means you cannot apply at a more convenient or closer U.S consulate.
What are the Benefits of Hiring an Experienced Immigration Lawyer?
Navigating the U.S immigration law isn't an endeavor you would like to undergo alone. Here are ways you could benefit from your competent lawyer:
The attorney avoids mistakes — Filing the right paperwork is essential. Usually, the paperwork is complicated and extensive, and without legal assistance, there are many opportunities to make mistakes. Your attorney will walk you through the steps.
The attorney can explain the available options — Even though you have overstayed your visa, you've options. The lawyer could highlight these options and ensure you understand your circumstances.
Find an Expert Immigration Attorney Near Me
Your visa permits you to stay in the US for a given period. Staying after the expiry date puts you in an unlawful presence status. Depending primarily on the length of your overstay, you can be barred from returning to the U.S for three or ten years. Fortunately, the assistance of a qualified immigration attorney could assist you to avoid the penalties. If you require assistance with your expired visa, the legal team at the California Immigration Attorney could help. Contact us at 424-789-8809 to learn how we can get the matter settled on time.